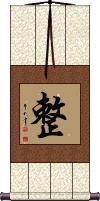 整 is a single Chinese character that can mean: in good order, whole, complete, entire, in order, orderly, to repair, to mend, to renovate, and/or to fix something or somebody.

This was added for a customer who wanted a single character that meant orderly. It's kind of unusual for a wall scroll.

My Korean Hanja dictionary defines it as orderly, neat, tidy, and/or whole.
---
Note: In Japanese, this Kanji is usually understood as a male given name Hitoshi (other Kanji can also be Hitoshi). It is used in combination with other Kanji or Hiragana to create words about orderliness. Unless your name is Hitoshi, this single character is best if your audience is Chinese.