yuǎn shàng hán shān shí jìng xiá bái yún shēng chù yǒu rén jiā tíng chē zuò ài fēng lín wǎn shuàng yè hóng yú èr yuè huā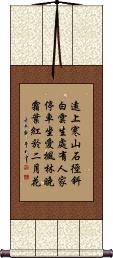 This poem was written almost 1200 years ago during the Tang dynasty.

It depicts traveling up a place known as Cold Mountain, where some hearty people have built their homes. The traveler is overwhelmed by the beauty of the turning leaves of the maple forest that surrounds him just as night overtakes the day, and darkness prevails. His heart implores him to stop, and take in all of the beauty around him.

First, before you get to the full translation, I must tell you that Chinese poetry is a lot different than what we have in the west. Chinese words simply don't rhyme in the same way that English or other western languages do. Chinese poetry depends on rhythm and a certain beat of repeated numbers of characters.

I have done my best to translate this poem keeping a certain feel of the original poet. But some of the original beauty of the poem in its original Chinese will be lost in translation.
---
Far away on Cold Mountain, a stone path leads upwards.
Among white clouds, people's homes reside.
Stopping my carriage I must, as to admire the maple forest at nights fall.
In awe of autumn leaves showing more red than even flowers of early spring.
---
Hopefully, this poem will remind you to stop, and "take it all in" as you travel through life.
The poet's name is "Du Mu" in Chinese that is:


.
The title of the poem, "Mountain Travels" is:



You can have the title, poet's name, and even "Tang Dynasty" written as an inscription on your custom wall scroll if you like.

More about the poet:

Dumu lived from 803-852 AD and was a leading Chinese poet during the later part of the Tang dynasty.
He was born in Chang'an, a city in central China and the former capital of the ancient Chinese empire in 221-206 BC. In present-day China, his birthplace is currently known as Xi'an, the home of the Terracotta Soldiers.

He was awarded his Jinshi degree (an exam administered by the emperor's court which leads to becoming an official of the court) at the age of 25 and went on to hold many official positions over the years. However, he never achieved a high rank, apparently because of some disputes between various factions, and his family's criticism of the government. His last post in the court was his appointment to the office of Secretariat Drafter.

During his life, he wrote scores of narrative poems, as well as a commentary on the Art of War and many letters of advice to high officials.

His poems were often very realistic and often depicted everyday life. He wrote poems about everything, from drinking beer in a tavern to weepy poems about lost love.

The thing that strikes you most is the fact even after 1200 years, not much has changed about the beauty of nature, toils, and troubles of love and beer drinking.