The Name Tea in Japanese/Chinese on a Custom-Made Wall Scroll.
Click the "Customize" button next to your name below to start your personalized tea calligraphy artwork...
---
---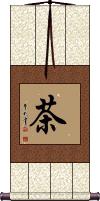 茶 means tea. It can refer to prepared tea (ready-to-drink) or dry tea leaves.

The origin of tea is China but the same character is used in Japanese Kanji, and old Korean Hanja with the exact same meaning. Japanese and Korean even borrowed the pronunciation from Chinese (pronounced "cha" in all three languages).

It's said that an early doctor (or herbologist) in ancient China kept poisoning himself as he tried different new herb concoctions. He invented tea as a means to detoxify himself as he recovered from 1 of the 76 times he nearly poisoned himself to death. Tea is seen not just as a drink but as a form of medicine used to remove impurities from the body.

The word "chai" (used in many languages to refer to various teas) is derived from this Chinese word.

茶 also means camellia, as Asian teas are often based on the leaves of camellia plant varieties.

茶緣 is a special title for the tea lover. This kind of means "tea fate," but it's more spiritual and hard to define. Perhaps the tea brought you in to drink it. Perhaps the tea will bring you and another tea-lover together. Perhaps you were already there, and the tea came to you. Perhaps it's the ah-ha moment you will have when drinking the tea.

I've been told not to explain this further, as it will either dilute or confuse the purposefully-ambiguous idea embedded in this enigma.

I happen to be the owner of a piece of calligraphy written by either the son or nephew of the last emperor of China, which is the title he wrote. It was given to me at a Beijing tea house in 2001. 茶緣 is where I learned to love tea after literally spending weeks tasting and studying everything I could about Chinese tea. I did not understand the significance of the authorship or the meaning of the title at all. Some 10 years later, I realized the gift was so profound and had such providence. Only now do I realize the value of a gift that it is too late to give proper thanks for. It was also years later that I ended up in this business and could have the artwork properly mounted as a wall scroll. It has been borrowed for many exhibitions and shows and always amazes native Chinese and Taiwanese who read the signature. This piece of calligraphy I once thought was just a bit of ink on a thin and wrinkled piece of paper, is now one of my most valued possessions. And fate has taught me to be more thankful for seemingly simple gifts.

茶道 means The Way of Tea (literally, "tea way") in Chinese and Japanese.

This may refer to a tea ceremony or a general lifestyle of tea preparation and drinking.

In Japanese, this can be pronounced sadō or chadō (seems that sadō refers more often to a tea ceremony, and chadō when it's the Way of Tea).

茶道 is also used in the Buddhist context with the same meaning as the Way of Tea.
Elements of the Tea Ceremony
Wa Kei Sei Jaku

和, 敬, 清, 寂 or Wa, Kei, Sei, Jaku are the principles of the way of tea or 茶道.

The meanings are:
Harmony 和 (wa).
Respect 敬 (kei).
Purity 清 (sei).
Tranquility 寂 (jaku).
---
These principles or tenets were created by tea master Sen Rikyu (1522-1591). More about these ideas: Chanoyu
---
See Also: The Way of Tea
This in-stock artwork might be what you are looking for, and ships right away...
The following table may be helpful for those studying Chinese or Japanese...
Title
Characters
Romaji

(Romanized Japanese)

Various forms of Romanized Chinese
Tea
茶
cha
chá / cha2 / cha
ch`a / cha
Tea
提亞

---

提亚
tí yà / ti2 ya4 / ti ya / tiya
t`i ya / tiya / ti ya
Tea Fate
茶緣

---

茶缘
chá yuán / cha2 yuan2 / cha yuan / chayuan
ch`a yüan / chayüan / cha yüan
Tea Pot
茶壺

---

茶壶
cha tsubo / chatsubo
chá hú / cha2 hu2 / cha hu / chahu
ch`a hu / chahu / cha hu
The Way of Tea
茶道
cha dou / chadou / cha do
chá dào / cha2 dao4 / cha dao / chadao
ch`a tao / chatao / cha tao
Elements of the Tea Ceremony
和敬清寂
wa kei sei jaku

---

wakeiseijaku
In some entries above you will see that characters have different versions above and below a line.
In these cases, the characters above the line are Traditional Chinese, while the ones below are Simplified Chinese.
Many custom options...




And formats...



Some people may refer to this entry as Tea Kanji, Tea Characters, Tea in Mandarin Chinese, Tea Characters, Tea in Chinese Writing, Tea in Japanese Writing, Tea in Asian Writing, Tea Ideograms, Chinese Tea symbols, Tea Hieroglyphics, Tea Glyphs, Tea in Chinese Letters, Tea Hanzi, Tea in Japanese Kanji, Tea Pictograms, Tea in the Chinese Written-Language, or Tea in the Japanese Written-Language.