The Name Shell in Japanese/Chinese on a Custom-Made Wall Scroll.
Click the "Customize" button next to your name below to start your personalized shell calligraphy artwork...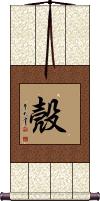 殼 is a Chinese, Japanese, and old Korean word that means shell or carapace.

This can also refer to the earth's crust or the husk of a seed or nut.
Japanese Snapping Turtle / Chinese Soft Shell Turtle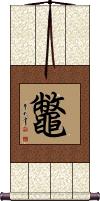 鼈 refers to a species of turtle.
鼈 refers to different turtles in different languages. See individual language notes below:

Japanese: 鼈 means "snapping turtle" or "mud turtle." But rarely used as a single Kanji like this in Japanese.

Chinese: 鼈 means soft-shelled turtle. A specific species, Trionyx Sinensis is native to Asia.
In China, this species is related to the "wang ba," a soft-shelled turtle sometimes known in English as a banjo turtle (due to its long neck, and general shape). Unfortunately, there is a word, "wang ba dan" which means the egg of this species of turtle. That term has come to mean "bastard" in Chinese (a turtle hatches from an abandoned egg, and does not know who his mother or father is). 鼈 is not a good selection for a wall scroll if your audience is Chinese.

In Korean, this character can be pronounced (though most Koreans would have to look it up in a dictionary). It has not been in common use in Korea for at least a few hundred years.

General notes: You may notice that the bottom half of this character is the same as some other turtle-related titles. That bottom half is actually an ancient character that means "toad."

Though not seen in this way today, most turtle-related characters hold the meaning of "a toad with a shell" in their ancient origin. That toad character is rarely used alone anymore but you can see what it looks like in the image to the right.
The following table may be helpful for those studying Chinese or Japanese...
Title
Characters
Romaji

(Romanized Japanese)

Various forms of Romanized Chinese
Shell
殼

---

壳
koku
qiào / qiao4 / qiao
ch`iao / chiao
Shell
シェル
sheru
Japanese Snapping Turtle
Chinese Soft Shell Turtle
鼈
suppon / supon
biē / bie1 / bie
pieh
In some entries above you will see that characters have different versions above and below a line.
In these cases, the characters above the line are Traditional Chinese, while the ones below are Simplified Chinese.
Many custom options...




And formats...



Some people may refer to this entry as Shell Kanji, Shell Characters, Shell in Mandarin Chinese, Shell Characters, Shell in Chinese Writing, Shell in Japanese Writing, Shell in Asian Writing, Shell Ideograms, Chinese Shell symbols, Shell Hieroglyphics, Shell Glyphs, Shell in Chinese Letters, Shell Hanzi, Shell in Japanese Kanji, Shell Pictograms, Shell in the Chinese Written-Language, or Shell in the Japanese Written-Language.