The Name Scarlet in Japanese/Chinese on a Custom-Made Wall Scroll.
Click the "Customize" button next to your name below to start your personalized scarlet calligraphy artwork...
---
---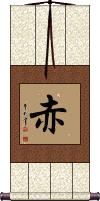 赤 can represent the color scarlet, red, or crimson.

In some special contexts, it can also mean naked, whole, total, perfect, obvious, or the Japanese surname, Sekizaki.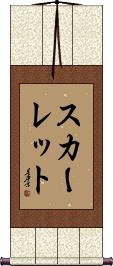 スカーレット is the name Scarlett in Japanese.
---
Note: Because this title is entirely Japanese Katakana, it should be written by a Japanese calligrapher.
---
See Also: Scarlet
The following table may be helpful for those studying Chinese or Japanese...
Title
Characters
Romaji

(Romanized Japanese)

Various forms of Romanized Chinese
Scarlet
斯卡雷特
sī kǎ léi té

---

si1 ka3 lei2 te2

---

si ka lei te

---

sikaleite
ssu k`a lei t`e

---

ssukaleite

---

ssu ka lei te
Scarlet
スカーレット
sukaaretto / sukaretto
Scarlet
Red
Crimson
赤
aka
chì / chi4 / chi
ch`ih / chih
Scarlet
Bright Red
鮮紅

---

鲜红
sen kou / senkou / sen ko
xiān hóng

---

xian1 hong2

---

xian hong

---

xianhong
hsien hung

---

hsienhung
Scarlet
Crimson
深紅色

---

深红色
shin kou shoku

---

shinkoushoku

---

shin ko shoku
shēn hóng sè

---

shen1 hong2 se4

---

shen hong se

---

shenhongse
shen hung se

---

shenhungse
Scarlett
スカーレット
sukaaretto / sukaretto
In some entries above you will see that characters have different versions above and below a line.
In these cases, the characters above the line are Traditional Chinese, while the ones below are Simplified Chinese.
Many custom options...




And formats...



Some people may refer to this entry as Scarlet Kanji, Scarlet Characters, Scarlet in Mandarin Chinese, Scarlet Characters, Scarlet in Chinese Writing, Scarlet in Japanese Writing, Scarlet in Asian Writing, Scarlet Ideograms, Chinese Scarlet symbols, Scarlet Hieroglyphics, Scarlet Glyphs, Scarlet in Chinese Letters, Scarlet Hanzi, Scarlet in Japanese Kanji, Scarlet Pictograms, Scarlet in the Chinese Written-Language, or Scarlet in the Japanese Written-Language.