The Name Polo in Japanese/Chinese on a Custom-Made Wall Scroll.
Click the "Customize" button next to your name below to start your personalized polo calligraphy artwork...

This is a common way to write Polo in Chinese.

This would also be the way to write Polo for the surname or the car made by Volkswagen (the Polo model is sold worldwide with the exception of the USA). It can also refer to Marco Polo in Chinese.

In Japanese, this is a name that romanizes as Hara.

馬球 is the Chinese title for the ancient game of polo.

During the Tang Dynasty (618-907 AD), the elite and rich would mount their horses and engage in this rigorous sport. It was the only sport of that period that women were also known to play.

The original polo came from Persia and may have been played in China hundreds of years before the Tang popularized it.

The characters "馬球" literally mean "horse ball."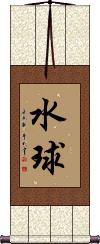 水球 is the Chinese, Japanese Kanji, and old Korean Hanja title for water polo.

The literal meaning of the characters is "water ball."
The following table may be helpful for those studying Chinese or Japanese...
Title
Characters
Romaji

(Romanized Japanese)

Various forms of Romanized Chinese
Polo
波羅

---

波罗
hara
bō luó / bo1 luo2 / bo luo / boluo
po lo / polo
Polo
馬球

---

马球
mǎ qiú / ma3 qiu2 / ma qiu / maqiu
ma ch`iu / machiu / ma chiu
Polo
ポロ
poro
Marco Polo
馬可波羅

---

马可波罗
mǎ kě bō luó

---

ma3 ke3 bo1 luo2

---

ma ke bo luo

---

makeboluo
ma k`o po lo

---

makopolo

---

ma ko po lo
Water Polo
水球
sui kyuu / suikyuu / sui kyu
shuǐ qiú / shui3 qiu2 / shui qiu / shuiqiu
shui ch`iu / shuichiu / shui chiu
In some entries above you will see that characters have different versions above and below a line.
In these cases, the characters above the line are Traditional Chinese, while the ones below are Simplified Chinese.
Many custom options...




And formats...



Some people may refer to this entry as Polo Kanji, Polo Characters, Polo in Mandarin Chinese, Polo Characters, Polo in Chinese Writing, Polo in Japanese Writing, Polo in Asian Writing, Polo Ideograms, Chinese Polo symbols, Polo Hieroglyphics, Polo Glyphs, Polo in Chinese Letters, Polo Hanzi, Polo in Japanese Kanji, Polo Pictograms, Polo in the Chinese Written-Language, or Polo in the Japanese Written-Language.