The Name Ocean in Japanese/Chinese on a Custom-Made Wall Scroll.
Click the "Customize" button next to your name below to start your personalized ocean calligraphy artwork...
---
---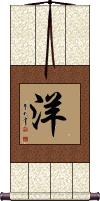 This is the Chinese and old Korean Hanja word for ocean. This can be pronounced in Japanese, and has the same meaning but is rarely seen alone in Japanese.

Besides ocean or sea, this character can also mean foreign, wide, or vast.

It's more common for Chinese people to use a different word "hai" for ocean or sea.
海洋 is probably the most common word for "ocean" in Japanese. 海洋 is also sometimes used in Chinese and Korean Hanja.

In Japan, this can also be a female given name when pronounced as Miyou or Unami.

This is a rarely-used word for ocean in Japanese, Chinese, and Korean. This is here mostly for reference - please order a different ocean for your custom calligraphy wall scroll.

The first character means "big" or "great."
The second means "ocean" or "body of water" (it can sometimes mean "foreign" but not in this case).
The first character designates that you are talking about a great or huge body of water (certainly a major ocean and not a smaller sea).
The Sea of Knowledge Has No Limits

學海無涯 is a Chinese proverb that reads, "sea of learning, no horizon."

Colloquially, it means there are no limits to what one still has left to learn.

This would be the Chinese equivalent to the quote from Hippocrates, "ars longa, vita brevis," meaning "it takes a long time to acquire and perfect one's expertise."
---
See Also: Learning is Eternal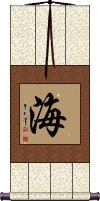 海 is the character often used for sea or ocean in Chinese, Japanese Kanji, and old Korean Hanja. In some context, this can refer to the beach, or an area near the sea, such as "Shanghai" (same hai is the second character of Shanghai).

If you are looking for a universal word for ocean or sea - or can't decide which character for ocean or sea that you want, pick this one!

海 is also a common female given name in Japan - also a good name for a restaurant as "Umi Sushi" would mean "Ocean Sushi Restaurant."
---

Please note that our Japanese master calligrapher will tend to write this character in the form shown to the right (a line instead of two dots). Both versions are correct, and can be read in either language. Let us know if you have a preference when you order.
The Way of the Wave
The Tao of the Waves
This in-stock artwork might be what you are looking for, and ships right away...
Gallery Price: $198.00
Your Price: $109.88
The following table may be helpful for those studying Chinese or Japanese...
Title
Characters
Romaji

(Romanized Japanese)

Various forms of Romanized Chinese
Ocean
洋
you / yo
yáng / yang2 / yang
Ocean
海洋
kai you / kaiyou / kai yo
hǎi yáng / hai3 yang2 / hai yang / haiyang
Great Sea
大洋
tai you / taiyou / tai yo
dà yáng / da4 yang2 / da yang / dayang
ta yang / tayang
The Sea of Knowledge Has No Limits
學海無涯

---

学海无涯
xué hǎi wú yá

---

xue2 hai3 wu2 ya2

---

xue hai wu ya

---

xuehaiwuya
hsüeh hai wu ya

---

hsüehhaiwuya
Ocean
Sea
海
umi
hǎi / hai3 / hai
The Way of the Wave
浪之道
làng zhī dào

---

lang4 zhi1 dao4

---

lang zhi dao

---

langzhidao
lang chih tao

---

langchihtao
In some entries above you will see that characters have different versions above and below a line.
In these cases, the characters above the line are Traditional Chinese, while the ones below are Simplified Chinese.
Many custom options...




And formats...



Some people may refer to this entry as Ocean Kanji, Ocean Characters, Ocean in Mandarin Chinese, Ocean Characters, Ocean in Chinese Writing, Ocean in Japanese Writing, Ocean in Asian Writing, Ocean Ideograms, Chinese Ocean symbols, Ocean Hieroglyphics, Ocean Glyphs, Ocean in Chinese Letters, Ocean Hanzi, Ocean in Japanese Kanji, Ocean Pictograms, Ocean in the Chinese Written-Language, or Ocean in the Japanese Written-Language.