The Name Mary in Japanese/Chinese on a Custom-Made Wall Scroll.
Click the "Customize" button next to your name below to start your personalized mary calligraphy artwork...
---
---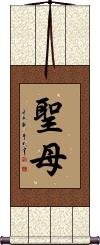 聖母 is the title for the Holy Mother, Madonna, or Virgin Mary used by Catholic Chinese, Korean, and Japanese people.

I think this would be a very cool wall scroll for a devout Catholic who also appreciates Asian artwork and language.

Note: Koreans often put a third character after these two, which creates a title that means "Hail Mary"; however, this character is not added or used in the same way in Japanese or Chinese. If you want that Korean title, just let me know, and we'll add that character for you. The two-character title shown to the left is universal, so I think it's the best choice.
The following table may be helpful for those studying Chinese or Japanese...
Title
Characters
Romaji

(Romanized Japanese)

Various forms of Romanized Chinese
Mary
瑪麗

---

玛丽
mǎ lì / ma3 li4 / ma li / mali
Mary
メアリー
mearii / meari
Mary-Jane
マライジェーン
maraijeen / maraijen
Mary-Lou
メアリールー
mearii ruu / meariiruu / meari ru
Mary-Jane
瑪麗簡

---

玛丽简
mǎ lì jiǎn

---

ma3 li4 jian3

---

ma li jian

---

malijian
ma li chien

---

malichien
Mary-Kate
瑪麗凱特

---

玛丽凯特
mǎ lì kǎi tè

---

ma3 li4 kai3 te4

---

ma li kai te

---

malikaite
ma li k`ai t`e

---

malikaite

---

ma li kai te
Mary-Kate
メアリーケート
mearii keito

---

meariikeito

---

meari keito
Holy Mother
Saint Mary
聖母

---

圣母
seibo
shèng mǔ / sheng4 mu3 / sheng mu / shengmu
In some entries above you will see that characters have different versions above and below a line.
In these cases, the characters above the line are Traditional Chinese, while the ones below are Simplified Chinese.
Many custom options...




And formats...



Some people may refer to this entry as Mary Kanji, Mary Characters, Mary in Mandarin Chinese, Mary Characters, Mary in Chinese Writing, Mary in Japanese Writing, Mary in Asian Writing, Mary Ideograms, Chinese Mary symbols, Mary Hieroglyphics, Mary Glyphs, Mary in Chinese Letters, Mary Hanzi, Mary in Japanese Kanji, Mary Pictograms, Mary in the Chinese Written-Language, or Mary in the Japanese Written-Language.