The Name Kyoto-shi in Chinese/Japanese on a Personalized Wall Scroll.
Click the "Customize" button next to your name below to start your personalized kyoto-shi calligraphy artwork...
Guan Shi Yin: Protector Of Life
Fatherly Master / Sifu / Shi Fu / Shifu
Martial Arts Teacher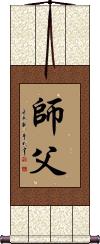 師父 means master in Chinese (occasionally used in Korean Hanja and Japanese). In the context of Martial Arts, this is the master and teacher who instructs students.

The second character by itself means father. Thus, you get the "Fatherly Master" translation. There's an old Chinese saying that goes something like, "One who is your teacher for one day is your father for life."

Language notes: I've often seen this romanized as "sifu," this is actually the Cantonese romanization. In Mandarin Chinese, it's "Shifu." The pronunciation in Mandarin is actually like "sure foo" (using typical English pronunciation). There's an "R-sound" in there, which is not obvious from the romanization. Many martial arts studios incorrectly pronounce this like "she foo" (which is actually the Japanese pronunciation). In Cantonese, it sounds like "Sea foo" (almost like "seafood," minus the "d" at the end).
師父 is kind of a weird selection for a calligraphy wall scroll; this entry is more for educational purposes. But you are welcome to buy it if it suits your circumstances.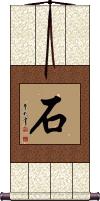 石 is the character that means rock or stone in both Chinese and Japanese.

Alone, this will be read as "stone" in Japanese but in some context, it is a unit of measure for the volume of about five bushels.

This can also refer to a gem or jewel.

This can also be the Japanese surnames that romanize as Ishi, Tsuruishi, Soku, Seki, Shi, Kazu, Iso, Ishizaki, Ishisaki, or Koku.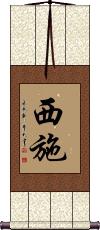 西施 is the Chinese title for Xishi, who lived around 450 BC. She was a famous Chinese beauty, perhaps the foremost of the Four Beauties (四大美女). She was given by King Gou Jian of the Yue Kingdom as a concubine to the King of Wu. This was part of an elaborate plan to destroy the Wu Kingdom - and it worked.

Note: In Japanese, this can be an unrelated given name, Seishi. Though the Xishi story is somewhat known in Japan.
This in-stock artwork might be what you are looking for, and ships right away...
Gallery Price: $232.00
Your Price: $128.88
Gallery Price: $232.00
Your Price: $128.88
The following table may be helpful for those studying Chinese or Japanese...
Title
Characters
Romaji

(Romanized Japanese)

Various forms of Romanized Chinese
Kyoto-Shi
京都市
kyou to shi

---

kyoutoshi

---

kyo to shi
jīng dū shì

---

jing1 du1 shi4

---

jing du shi

---

jingdushi
ching tu shih

---

chingtushih
Guan Shi Yin: Protector Of Life
觀世音

---

观世音
kanzeon
guān shì yīn

---

guan1 shi4 yin1

---

guan shi yin

---

guanshiyin
kuan shih yin

---

kuanshihyin
Fatherly Master
Sifu
Shi Fu
Shifu
師父

---

师父
shi fu / shifu
shī fù / shi1 fu4 / shi fu / shifu
shih fu / shihfu
Stone
Rock
石
ishi
shí / shi2 / shi
shih
Xishi
Xi Shi
西施
sei shi / seishi
xī shī / xi1 shi1 / xi shi / xishi
hsi shih / hsishih
In some entries above you will see that characters have different versions above and below a line.
In these cases, the characters above the line are Traditional Chinese, while the ones below are Simplified Chinese.
Many custom options...




And formats...



Some people may refer to this entry as Kyoto-Shi Kanji, Kyoto-Shi Characters, Kyoto-Shi in Mandarin Chinese, Kyoto-Shi Characters, Kyoto-Shi in Chinese Writing, Kyoto-Shi in Japanese Writing, Kyoto-Shi in Asian Writing, Kyoto-Shi Ideograms, Chinese Kyoto-Shi symbols, Kyoto-Shi Hieroglyphics, Kyoto-Shi Glyphs, Kyoto-Shi in Chinese Letters, Kyoto-Shi Hanzi, Kyoto-Shi in Japanese Kanji, Kyoto-Shi Pictograms, Kyoto-Shi in the Chinese Written-Language, or Kyoto-Shi in the Japanese Written-Language.