The Name Khan in Japanese/Chinese on a Custom-Made Wall Scroll.
Click the "Customize" button next to your name below to start your personalized khan calligraphy artwork...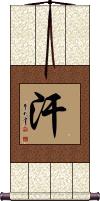 汗 is the title Khan, meaning a medieval ruler of a Tatary tribe.

Oddly, besides being a name or title, this can also mean perspiration, sweat, moisture, or condensation in Japanese and Chinese.

The most famous would be Genghis Khan, followed by his son Ögedei Khan, and grandson Khubilai Khan.

成吉思汗 is the full title for Genghis Khan (1162-1227).

Khan is the title of his position as emperor. Genghis is his name.

In Japan, this also means Genghis Khan but is sometimes used to refer to a specific Japanese mutton and vegetable dish or the slotted dome cast iron grill for preparing this dish.
The following table may be helpful for those studying Chinese or Japanese...
Title
Characters
Romaji

(Romanized Japanese)

Various forms of Romanized Chinese
Khan
汗
kan
hàn / han4 / han
Khan
カーン
kaan / kan
Genghis Khan
成吉思汗
jin gi su kan

---

jingisukan
chéng jí sī hán

---

cheng2 ji2 si1 han2

---

cheng ji si han

---

chengjisihan
ch`eng chi ssu han

---

chengchissuhan

---

cheng chi ssu han
Many custom options...




And formats...



Some people may refer to this entry as Khan Kanji, Khan Characters, Khan in Mandarin Chinese, Khan Characters, Khan in Chinese Writing, Khan in Japanese Writing, Khan in Asian Writing, Khan Ideograms, Chinese Khan symbols, Khan Hieroglyphics, Khan Glyphs, Khan in Chinese Letters, Khan Hanzi, Khan in Japanese Kanji, Khan Pictograms, Khan in the Chinese Written-Language, or Khan in the Japanese Written-Language.