The Name Hope in Japanese/Chinese on a Custom-Made Wall Scroll.
Click the "Customize" button next to your name below to start your personalized hope calligraphy artwork...
---
---

大望 is one of a few ways to write "dream big" in Japanese.

This is a good title if you want that to inspire ambition or high aspirations. 大望 is also a way to say "great expectations."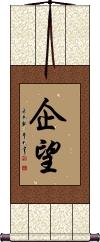 企望 is a Chinese and Japanese word that can be translated as:
to hope; to look forward; looking forward to; hoping for.

The first character means to plan. The second can mean to hope; to expect; to gaze (into the distance); to look towards. Sometimes it can mean a full moon.
Together, these characters create this word about hoping, wishing, looking forward, and dreaming about the future.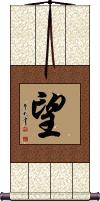 望 holds the ideas of ambition, hope, desire, aspiring to, expectations, looking towards, to gaze (into the distance), and in some contexts, full moon rising.

望 is one of those single characters that is vague but in that vagueness, it also means many things.

望 is a whole word in Chinese and old Korean but is seldom seen alone in Japanese. Still, it holds the meanings noted above in all three languages.

This Chinese word can mean desirous, wishful, or desire.

The first character means to thirst for [something] or to be thirsty. The second character means to hope for, to expect, to gaze (into the distance), or to look for something. The combined meaning of these two characters changes a bit, but I think it's nice to know the individual meanings to give you a better understanding of where a word comes from.

Korean definitions of this word include craving, longing, and thirst for knowledge.
Desire / Longing / Craving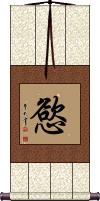 慾 means desire, longing, appetite, wish, covetousness, greed, passion, desire, avarice, and craving.

慾 is universal in Chinese, Japanese Kanji, and Korean Hanja.

The context in which this character is used determines whether the meaning is good or bad. As a single character on a wall scroll, you get to decide what the definition is to you (hopefully more toward desire than greed).
---

Please note that Japanese use a simplified version of this character - it also happens to be the same simplification used in mainland China. Click on the character to the right if you want the Japanese/Simplified version of desire.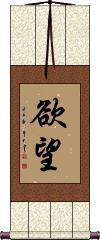 欲望 is a word that means strong desire, while some might translate it as "lust."

The first character of this word means desire, longing, hunger, covetousness, greed, passion, desire, craving, or wish. The second character means to hope for, ambition, desire, aspire, expect, gaze (into the distance), or look for something.


Desire / Wish / Aspiration
The following table may be helpful for those studying Chinese or Japanese...
Title
Characters
Romaji

(Romanized Japanese)

Various forms of Romanized Chinese
Hope
希望
ki bou / kibou / ki bo
xī wàng / xi1 wang4 / xi wang / xiwang
hsi wang / hsiwang
Big Dream
Great Hope
大望
tai mou / taimou / tai mo
Looking Forward
Hoping
企望
kibou / kibo
qǐ wàng / qi3 wang4 / qi wang / qiwang
ch`i wang / chiwang / chi wang
Great Expectations
望
bou / nozomi

---

bo / nozomi
wàng / wang4 / wang
Desire
渴望
kě wàng / ke3 wang4 / ke wang / kewang
k`o wang / kowang / ko wang
Desire
Longing
Craving
慾

---

欲
yoku
yù / yu4 / yu
yü
Desire
Craving
欲望
yokubou / yokubo
yù wàng / yu4 wang4 / yu wang / yuwang
yü wang / yüwang
Desire
Wish
Aspiration
願望

---

愿望
gan bou / ganbou / gan bo
yuàn wàng

---

yuan4 wang4

---

yuan wang

---

yuanwang
yüan wang

---

yüanwang
In some entries above you will see that characters have different versions above and below a line.
In these cases, the characters above the line are Traditional Chinese, while the ones below are Simplified Chinese.
Many custom options...




And formats...



Some people may refer to this entry as Hope Kanji, Hope Characters, Hope in Mandarin Chinese, Hope Characters, Hope in Chinese Writing, Hope in Japanese Writing, Hope in Asian Writing, Hope Ideograms, Chinese Hope symbols, Hope Hieroglyphics, Hope Glyphs, Hope in Chinese Letters, Hope Hanzi, Hope in Japanese Kanji, Hope Pictograms, Hope in the Chinese Written-Language, or Hope in the Japanese Written-Language.