The Name Crystal in Japanese/Chinese on a Custom-Made Wall Scroll.
Click the "Customize" button next to your name below to start your personalized crystal calligraphy artwork...

This is a common transliteration to Mandarin Chinese for the names Crystal or Krystal.

Consider also going with the meaning of crystal. The characters shown to the left sound like crystal in Mandarin but do not mean crystal (of course, the word for crystal in Chinese does not sound at all like the English word crystal).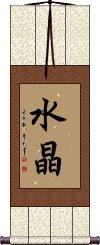 This word means "crystal" such as fine crystal glassware or diamonds in Chinese, Japanese, and Korean Hanja.

水晶 is a cool selection if your name is Crystal, as it will match your name by meaning (rather than pronunciation).

It's also cool because it will universally contain the meaning of your name in most Asian languages.
Crystal
...or Krystal (alternate)
The following table may be helpful for those studying Chinese or Japanese...
Title
Characters
Romaji

(Romanized Japanese)

Various forms of Romanized Chinese
Crystal
克里斯托
kè lǐ sī tuō

---

ke4 li3 si1 tuo1

---

ke li si tuo

---

kelisituo
k`o li ssu t`o

---

kolissuto

---

ko li ssu to
Crystal
水晶
suishou / suisho
shuǐ jīng

---

shui3 jing1

---

shui jing

---

shuijing
shui ching

---

shuiching
Crystal
克里斯多
kè lǐ sī duō

---

ke4 li3 si1 duo1

---

ke li si duo

---

kelisiduo
k`o li ssu to

---

kolissuto

---

ko li ssu to
Many custom options...




And formats...



Some people may refer to this entry as Crystal Kanji, Crystal Characters, Crystal in Mandarin Chinese, Crystal Characters, Crystal in Chinese Writing, Crystal in Japanese Writing, Crystal in Asian Writing, Crystal Ideograms, Chinese Crystal symbols, Crystal Hieroglyphics, Crystal Glyphs, Crystal in Chinese Letters, Crystal Hanzi, Crystal in Japanese Kanji, Crystal Pictograms, Crystal in the Chinese Written-Language, or Crystal in the Japanese Written-Language.