The Name Chan in Japanese/Chinese on a Custom-Made Wall Scroll.
Click the "Customize" button next to your name below to start your personalized chan calligraphy artwork...
---
---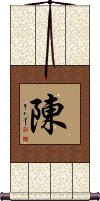 This is the most common Cantonese surname that is often romanized as Chan.

The actual meaning of this character is to lay out, to exhibit, to display, to narrate, to state, to explain, or to tell.

This also can refer to the ancient state of Chan/Chen 1045-479 BC, or the Chen dynasty of China 557-589 BC.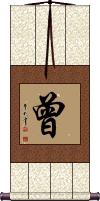 This is a Hokkien surname that is often romanized as Chan.

The meaning is great- (as in great-grandfather, grandmother, grandchild, etc.).

In some context, can mean already. In Japanese, this can be a surname that romanizes as Son.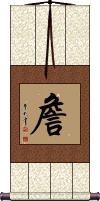 This is a surname that romanizes as Chan from the Taiwanese (Wade-Giles) method or romanizing Mandarin Chinese.

The actual meaning is excellent or verbose.

少林禪 translates as "Little Forest Meditation."

少林禪 is part of a movement to provide spiritual and mental health by integrating the practices of martial arts and meditation.

More information at Shaolin Chan Foundation.
Chen / Chan / Yo / Jin
Surname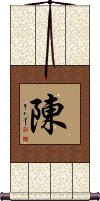 This is the most common character for a Chinese surname that romanizes as "Chen."

This is also a surname You or Yo in Japanese, though it can also be pronounced as Chin in Japanese.

In Korean, it is a surname romanized as Jin.

As a word, this character means: to lay out; to exhibit; to display; to narrate; to state; to explain; to tell.

The Chen clan or family was a small kingdom from 1046 BC to 479 BC. It was one of 12 small-but-powerful vassal states during the Spring and Autumn Period 770-475 BC. This name reappeared as the Chen Dynasty (陳朝) of the Southern dynasties from 557 AD to 589 AD.
Zen / Chan / Meditation
...as in Zen Buddhism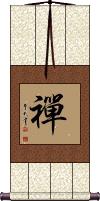 First, let's correct something: The Japanese romanization for this character, "Zen" has penetrated the English language. In English, it's almost always incorrectly used for phrases like "That's so zen." Nobody says, "That's so meditation" - right? As the title of a sect, this would be like saying, "That's so Baptist!"

禪 by itself just means "meditation." In that context, it should not be confined to use by any one religion or sect.

Regardless of the dictionary definition, more often than not, this character is associated with Buddhism. And here is one of the main reasons:
Zen is used as the title of a branch of Mahayana Buddhism, which strongly emphasizes meditation practice.
However, it should be noted that Buddhism came from India, and "Chan Buddhism" evolved and developed in medieval China. The Chinese character "Chan" was eventually pronounced as "Zen" in Japanese. Chan Buddhists in China have much in common with Zen Buddhists in Japan.

More about the history of Zen Buddhism here.

Please also note that the Japanese Kanji character for Zen has evolved a little in Japan, and the two boxes (kou) that you see at the top of the right side of the character have been replaced by three dots with tails.

The original character would still be generally understood and recognized in Japanese (it's considered an ancient version in Japan) but if you want the specifically modern Japanese version, please click on the zen Kanji to the right. Technically, there is no difference between the Tensho and Reisho versions of Zen since they are ancient character styles that existed long before Japan had a written language.



There is also an alternate/shorthand/simplified Chinese version, which has two dots or tails above the right-side radical. This version is also popular for calligraphy in China. If you want this version, just click the character to the right.
---
Further notes: Zen is just one of seven sects of Buddhism practiced in Japan. The others are 律 Ritsu (or Risshū), 法相 Hossō, 論 Sanron 華嚴 Kegon, 天台 Tendai, and 眞言 Shingon.
This in-stock artwork might be what you are looking for, and ships right away...
Gallery Price: $72.00
Your Price: $39.88
Gallery Price: $232.00
Your Price: $128.88
Gallery Price: $232.00
Your Price: $128.88
The following table may be helpful for those studying Chinese or Japanese...
Title
Characters
Romaji

(Romanized Japanese)

Various forms of Romanized Chinese
Chan
陳

---

陈
you / yo
chén / chen2 / chen
ch`en / chen
Chan
曾
son
zēng / zeng1 / zeng
tseng
Chan
詹
zhān / zhan1 / zhan
chan
Chan
チャン
chan
Shaolin Chan
少林禪

---

少林禅
sho rin zen

---

shorinzen
shǎo lín chán

---

shao3 lin2 chan2

---

shao lin chan

---

shaolinchan
shao lin ch`an

---

shaolinchan

---

shao lin chan
Chen
Chan
Yo
Jin
陳

---

陈
chin
chén / chen2 / chen
ch`en / chen
Zen
Chan
Meditation
禪

---

禅
zen
chán / chan2 / chan
ch`an / chan
In some entries above you will see that characters have different versions above and below a line.
In these cases, the characters above the line are Traditional Chinese, while the ones below are Simplified Chinese.
Many custom options...




And formats...



Some people may refer to this entry as Chan Kanji, Chan Characters, Chan in Mandarin Chinese, Chan Characters, Chan in Chinese Writing, Chan in Japanese Writing, Chan in Asian Writing, Chan Ideograms, Chinese Chan symbols, Chan Hieroglyphics, Chan Glyphs, Chan in Chinese Letters, Chan Hanzi, Chan in Japanese Kanji, Chan Pictograms, Chan in the Chinese Written-Language, or Chan in the Japanese Written-Language.