Buy a Chinese and/or Japanese Sato wall scroll with here!
Click the "Customize" button next to your name below to start your custom sato calligraphy artwork...

shā táng

satou / sato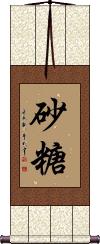 砂糖 is a Japanese surname, "Sato."

This also means sugar or granulated sugar in both Chinese and Japanese.
---
There are several given names and surnames that romanize as Sato from Japanese. To see more, check out this link: Sato.
Be sure to pick the right Sato before you order a wall scroll etc.
The following table may be helpful for those studying Chinese or Japanese...
Title
Characters
Romaji

(Romanized Japanese)

Various forms of Romanized Chinese
Sato
砂糖
satou / sato

---

sato / sato

---

sato/sato
shā táng / sha1 tang2 / sha tang / shatang
sha t`ang / shatang / sha tang