Buy a Chinese and/or Japanese Rose wall scroll with here!
Click the "Customize" button next to your name below to start your custom rose calligraphy artwork...

yě qiáng wēi

nobara

야장미

野薔薇 is both the technical term for rose in the science of botany. However, it also means wild rose and can be found in some forms of poetry as well.

If you are wondering, this word for rose sounds good in Chinese, not like a super-technical such as the Latin words we use for scientific terms in the west).

qiáng wēi

bara / shoubi

장미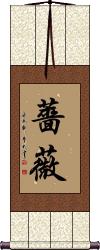 薔薇 is the most universal way to write rose (as in the flower) because it is understood in both Chinese and Japanese (same characters in either language). 薔薇 is also a common way to write about roses in Asian poetry. This can be translated as "wild rose" if you are looking for that title.

薔薇 is also how to write "rose" in old Korean Hanja (though they now us Hangul and most Koreans of this generation will not be able to read this without a dictionary).

zèng rén méi guī shǒu liú yú xiāng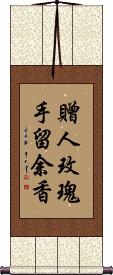 This proverb has been translated several ways:

1. Roses given, fragrance in hand.

2. You present others roses, fragrance remains.

3. The fragrance of the rose always remains on the hand of those that bestow them.

4. A little bit of fragrance always clings to the hands which give the flowers

However, this literally translates as, "Give someone rose flowers, [your] hands keep [the] remaining fragrance."

yě méi guì

야매괴

野玫瑰 is the simplest way to write "wild rose" in Chinese.

The first word literally means wild. The second is the single-character form of rose or roses (plural or singular is not specified in Chinese characters). This can also be translated as "sweet briar."
The following table may be helpful for those studying Chinese or Japanese...
Title
Characters
Romaji

(Romanized Japanese)

Various forms of Romanized Chinese
Rose
羅斯

---

罗斯
luō sī / luo1 si1 / luo si / luosi
lo ssu / lossu
Rose
野薔薇

---

野蔷薇
nobara
yě qiáng wēi

---

ye3 qiang2 wei1

---

ye qiang wei

---

yeqiangwei
yeh ch`iang wei

---

yehchiangwei

---

yeh chiang wei
Rose
ローズ
roozu / rozu
Rose Flower
玫瑰
méi guì / mei2 gui4 / mei gui / meigui
mei kuei / meikuei
Rose Flower
薔薇

---

蔷薇
bara / shoubi

---

bara / shobi

---

bara/shobi
qiáng wēi

---

qiang2 wei1

---

qiang wei

---

qiangwei
ch`iang wei

---

chiangwei

---

chiang wei
Rose Flowers Given, Frangrance Remains on Hands of Giver
贈人玫瑰手留余香

---

赠人玫瑰手留余香
zèng rén méi guī shǒu liú yú xiāng

---

zeng4 ren2 mei2 gui1 shou3 liu2 yu2 xiang1

---

zeng ren mei gui shou liu yu xiang
tseng jen mei kuei shou liu yü hsiang
Wild Rose
野玫瑰
yě méi guì

---

ye3 mei2 gui4

---

ye mei gui

---

yemeigui
yeh mei kuei

---

yehmeikuei
Thorns
Bramble
Briar Patch
Wild Rose
荊棘

---

荆棘
keikyoku
jīng jí / jing1 ji2 / jing ji / jingji
ching chi / chingchi
In some entries above you will see that characters have different versions above and below a line.
In these cases, the characters above the line are Traditional Chinese, while the ones below are Simplified Chinese.