Buy a Chinese and/or Japanese Read wall scroll with here!
Click the "Customize" button next to your name below to start your custom read calligraphy artwork...

yuè

열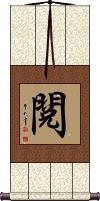 This Chinese character means to read. It can also refer to observing (the world, and learning from it), or gaining life experiences. 閱 is a good character to relay the idea of being "well read," which can include reading books, studying, and learning through experience.

The dictionary definition also includes: to inspect; to review; to peruse; to go through; to experience.

Technically, this is also a Japanese Kanji but it only used by some Japanese Buddhists (most of the population will not recognize it).

In both Chinese and Japanese Buddhism, this means: Examine, inspect, look over.

dú

doku

독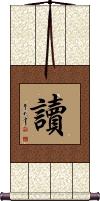 This Chinese character means, "to read out loud," or "to study books."

Very seldom used in Japanese anymore (except occasionally in Buddhism).

dú wàn juǎn shū, xíng wàn lǐ lù

This is a lifelong suggestion for expanding your horizons by gaining knowledge, experience, and seeing the world.

Of course, this was written long ago when it was hard to travel 10,000 miles (at least 1000 years before the invention of the airplane).
With air travel and the business I'm in, I often achieve that lifetime goal on a monthly basis.
However, I am a little behind in the book count.

Note: An ancient Chinese mile (里 or lǐ) referred to in this proverb is about a third of a British/American mile. However, at that time, this was a great distance to travel.

xíng wàn lǐ lù shèng dú wàn juǎn shū

This translates a few ways:
To travel ten-thousand miles beats reading ten-thousand books.
Better to travel ten thousand li than to read ten thousand books. (a "li" is an ancient Chinese mile)
Travelling thousands of miles is better than reading thousands of books.

No matter how you slice it, this Chinese proverb is claiming that experience is more profound and meaningful than what you can get from a book. Go do it! Don't just read about it.

niàn

nen

념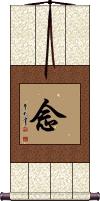 念 is the simplest way to write "mindfulness" in Chinese, Japanese Kanji, and old Korean Hanja.

念 can be defined these ways: To read; to study (a degree course); to read aloud; to miss somebody (keeping them in your mind); idea; remembrance; sense; thought; feeling; desire; concern; attention; recollection; memory; to think on/about; reflect; repeat, intone; a moment.

Obviously, the context in which the character is used determines which definition or meaning is perceived. As a single character, it's open and perhaps ambiguous. Thus, it can be read with any or all of these meanings.

念 is used in a Buddhist context (often written as 正念 or "right mindfulness") with similar meanings of thought and contemplation.

In Japanese, this character is sometimes used as a name "Nen."
---
See Also: Buddhism | Enlightenment
This in-stock artwork might be what you are looking for, and ships right away...
Gallery Price: $162.00
Your Price: $89.88
Gallery Price: $160.00
Your Price: $88.88
Gallery Price: $100.00
Your Price: $49.88
Gallery Price: $100.00
Your Price: $49.88
The following table may be helpful for those studying Chinese or Japanese...
Title
Characters
Romaji

(Romanized Japanese)

Various forms of Romanized Chinese
Read
閱

---

阅
yuè / yue4 / yue
yüeh
Read
里德
lǐ dé / li3 de2 / li de / lide
li te / lite
Read
Study
讀

---

读
doku
dú / du2 / du
tu
Read
Reading
閱讀

---

阅读
yuè dú / yue4 du2 / yue du / yuedu
yüeh tu / yüehtu
Read 10,000 Books, Travel 10,000 Miles
讀萬卷書行萬里路

---

读万卷书行万里路
dú wàn juǎn shū, xíng wàn lǐ lù

---

du2 wan4 juan3 shu1 xing2 wan4 li3 lu4

---

du wan juan shu xing wan li lu

---

duwanjuanshuxingwanlilu
tu wan chüan shu hsing wan li lu
Better to Travel 10,000 Miles than Read 10,000 Books
行萬里路勝讀萬捲書

---

行万里路胜读万卷书
xíng wàn lǐ lù shèng dú wàn juǎn shū

---

xing2 wan4 li3 lu4 sheng4 du2 wan4 juan3 shu1

---

xing wan li lu sheng du wan juan shu
hsing wan li lu sheng tu wan chüan shu
Mindfulness
念
nen
niàn / nian4 / nian
nien
Wisdom
Intelligence
慧
e / kei
huì / hui4 / hui
In some entries above you will see that characters have different versions above and below a line.
In these cases, the characters above the line are Traditional Chinese, while the ones below are Simplified Chinese.