Buy a Chinese and/or Japanese Mori wall scroll with here!
Click the "Customize" button next to your name below to start your custom mori calligraphy artwork...

sēn

mori

삼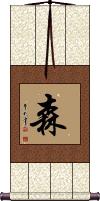 森 is the Chinese, Japanese Kanji, and old Korean Hanja for forest.

This can also refer to a dense forest-like place or thing. It can also refer to a shrine grove or sacred grove (a forest of religious significance).
The following table may be helpful for those studying Chinese or Japanese...
Title
Characters
Romaji

(Romanized Japanese)

Various forms of Romanized Chinese
Mori
莫里
mò lǐ / mo4 li3 / mo li / moli
Mori
モーリ
moori / mori
Forest
森
mori
sēn / sen1 / sen
In some entries above you will see that characters have different versions above and below a line.
In these cases, the characters above the line are Traditional Chinese, while the ones below are Simplified Chinese.