Buy a Chinese and/or Japanese Mani wall scroll with here!
Click the "Customize" button next to your name below to start your custom mani calligraphy artwork...

ǎn mó nǐ bō míng hǒu

on mani padomei un

옴마니반메훔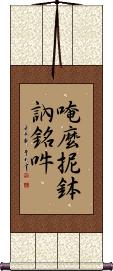 This is one of the earliest and best known mantras in the Buddhist tradition.

It can be heard in temples from Tokyo to Tibet.

This mantra is an expression of the basic attitude of compassion. It translates literally as, "oṃ the jewel in the lotus hūṃ".
---
There are several titles and transliterations for this mantra, including, 六字大明呪 (Great 6-syllable mantra), 六字真言 (6-syllable Sanskrit mantra of Avalokiteshvara bodhisattva), 唵嘛呢叭咪吽, 唵嘛呢叭咪哞, and 唵嘛咪叭呢哞.
Contact me if you need any of these alternates on your wall scroll.
The following table may be helpful for those studying Chinese or Japanese...
Title
Characters
Romaji

(Romanized Japanese)

Various forms of Romanized Chinese
Mani
瑪妮

---

玛妮
mǎ nī / ma3 ni1 / ma ni / mani
Mani
マニ
mani
Om Mani Padme Hum
唵麼抳鉢訥銘吽

---

唵么抳钵讷铭吽
on mani padomei un

---

onmanipadomeiun
ǎn mó nǐ bō míng hǒu

---

an3 mo2 ni3 bo1 ne4 ming2 hou3

---

an mo ni bo ne ming hou

---

anmoniboneminghou
an mo ni po ne ming hou

---

anmoniponeminghou
In some entries above you will see that characters have different versions above and below a line.
In these cases, the characters above the line are Traditional Chinese, while the ones below are Simplified Chinese.