Buy a Chinese and/or Japanese Kata wall scroll with here!
Click the "Customize" button next to your name below to start your custom kata calligraphy artwork...

xíng

kata

형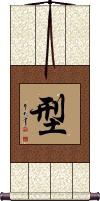 型 is often used in Japanese martial arts to mean a certain set of movements and techniques.

The meaning in other context (and in Chinese or Korean) can be model, type, style, pattern, mold, mould, template, or form.

One Japanese dictionary defines it as, "standard form of a movement, posture, etc. in martial arts, sport, etc."
The following table may be helpful for those studying Chinese or Japanese...
Title
Characters
Romaji

(Romanized Japanese)

Various forms of Romanized Chinese
Kata
卡塔
kǎ tǎ / ka3 ta3 / ka ta / kata
k`a t`a / kata / ka ta
Kata
型
kata
xíng / xing2 / xing
hsing