xǐ

ki / yorokobi

희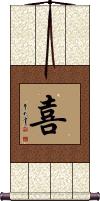 喜 is the Chinese, Japanese Kanji, and Korean Hanja for the kind of happiness known in the west as "joy."

喜 can also be translated as rejoice, enjoyment, delighted, pleased, or "take pleasure in." Sometimes it can mean, "to be fond of" (in a certain context).

If you write two of these happiness/joy characters side by side, you create another character known in English as "double happiness," which is a symbol associated with weddings and a happy marriage.
---
There is another version of this character that you will find on our website with an additional radical on the left side (exactly same meaning, just an alternate form). The version of happiness shown here is the commonly written form in China, Japan and South Korea (banned in North Korea).
---
See Also: Contentment | Happiness | Joy