Buy a Chinese and/or Japanese Hazel wall scroll with here!
Click the "Customize" button next to your name below to start your custom hazel calligraphy artwork...

zhēn

hari

진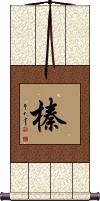 榛 is the Chinese, Japanese, and Korean for Hazel Tree (Corylus Heterophylla).

Sometimes used to refer to the Japanese alder tree (Alnus japonica). Also, can be the Japanese surname, Hashibami.
The following table may be helpful for those studying Chinese or Japanese...
Title
Characters
Romaji

(Romanized Japanese)

Various forms of Romanized Chinese
Hazel
哈澤兒

---

哈泽儿
hā zé er / ha1 ze2 er / ha ze er / hazeer
ha tse erh / hatseerh
Hazel
ヘイゼル
heizeru
Hazel Tree
榛
hari
zhēn / zhen1 / zhen
chen
In some entries above you will see that characters have different versions above and below a line.
In these cases, the characters above the line are Traditional Chinese, while the ones below are Simplified Chinese.