shén

shin / kami

신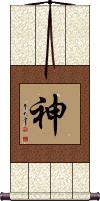 神 is the simplest way to write spirit in Chinese, Japanese Kanji, and old Korean.

This single character alone will conjure up ideas of the spiritual world. 神 can also be translated as "vital awareness" as in the fact that one must know they exist to exist (I think, therefore, I am).

Other translations include:
God, deity, mysterious, divine essence, lively, spiritual being, divinity, supernatural, soul, mind, nerves, and energy. In some extended context it can mean genius or unusual.

Japanese romanizations vary a lot when this character is combined into other words. However, shin is the original pronunciation taken from Chinese into Japanese. You'll also see it romanized as kami, gami, jin, and a few others, depending on context.