Buy a Chinese and/or Japanese Fern wall scroll with here!
Click the "Customize" button next to your name below to start your custom fern calligraphy artwork...

wēi

zenmai

미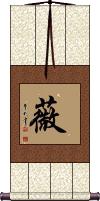 In Japanese, 薇 is usually romanized as zenmai, and refers to the royal fern (Osmunda Japonica).

In Chinese, this may refer to a different species of fern, Osmunda Regalis.

Other translations include: flowering fern; osmund; fiddlehead fern.

In Japan, this can also be romanized as Uei, and used as a personal name.

Please note that 薇 is not the only character(s) in Japanese that can romanize as zenmai. Be sure you have the right word or name before you order.
The following table may be helpful for those studying Chinese or Japanese...
Title
Characters
Romaji

(Romanized Japanese)

Various forms of Romanized Chinese
Fern
弗恩
fú ēn / fu2 en1 / fu en / fuen
Fern
ファーン
faan / fan
Zenmai
Royal Fern
薇
zenmai
wēi / wei1 / wei
In some entries above you will see that characters have different versions above and below a line.
In these cases, the characters above the line are Traditional Chinese, while the ones below are Simplified Chinese.