Buy a Chinese and/or Japanese Diamond wall scroll with here!
Click the "Customize" button next to your name below to start your custom diamond calligraphy artwork...

jīn gāng

kon gou

금강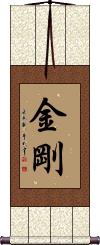 金剛 is a common way to call diamonds in Chinese and Japanese. Traditionally, there were not that many diamonds that made their way to Asia, so this word does not have the deep cultural significance that it does in the west (thanks mostly to De Beers marketing). Therefore, this word was kind of borrowed from other uses.

This title can also refer to vajra (a Sanskrit word meaning both thunderbolt and diamond that originally refers to an indestructible substance); hard metal; pupa of certain insects; Vajrapani, Buddha's warrior attendant; King Kong; adamantine; Buddhist symbol of the indestructible truth.

jīn gāng bù huài

kon gou fu e

金剛不壞 is originally a Buddhist term for, "The diamond indestructible." Sometimes, it's written 金剛不壞身, The diamond indestructible body.

Outside that context, it still means firm and solid, sturdy and indestructible, unshakable, or adamantine (a mythological indestructible material).
---

Note: If you order this from the Japanese master calligrapher, the last Kanji will look like the one shown to the right.
The following table may be helpful for those studying Chinese or Japanese...
Title
Characters
Romaji

(Romanized Japanese)

Various forms of Romanized Chinese
Diamond
戴矇德

---

戴蒙德
dài méng dé

---

dai4 meng2 de2

---

dai meng de

---

daimengde
tai meng te

---

taimengte
Diamond
金剛

---

金刚
kon gou / kongou / kon go / kongo
jīn gāng / jin1 gang1 / jin gang / jingang
chin kang / chinkang
Stay Strong
Indestructible
Unbreakable
金剛不壞 / 金剛不壊

---

金刚不坏
kon gou fu e

---

kongoufue

---

kon go fu e

---

kongofue
jīn gāng bù huài

---

jin1 gang1 bu4 huai4

---

jin gang bu huai

---

jingangbuhuai
chin kang pu huai

---

chinkangpuhuai
In some entries above you will see that characters have different versions above and below a line.
In these cases, the characters above the line are Traditional Chinese, while the ones below are Simplified Chinese.