yīn yuán

in nen

인연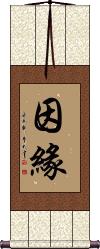 因緣 is the Buddhist concept of a chance meeting or an opportunity that presents itself by fate.

Sometimes this is used to describe a cosmic chain of events or cause and effect.

It also is used to describe predestined relationships between people - and sometimes married couples (although if you want one about marriage, try this: Fate / Destiny of Lovers.

因緣 can also be translated as origin, karma, destiny, affinity, connection, and relation. This all depends on context - seen alone on a wall scroll, this will be read with a "fate / chance" meaning by a Chinese person, or a Korean person who can read Hanja.

The more complex definition of this word would be, "Direct causes and indirect conditions, which underlie the actions of all things."

This concept is known as nidana in the original Sanskrit. Also sometimes presented as hetupratyaya (or "hetu and prataya") which I believe is Pali.
---
Note: Japanese will tend to use this version of the second Kanji:


If you order this from the Japanese master calligrapher, expect that you'll get this version. However, this word often carries a negative connotation in Japanese (bad things happen), as it is used that way in a certain Japanese idiom. Therefore, this may not be the best choice if Japanese is your target language.
---
See Also: Buddhism | Opportunity