qíng yù

jouyoku

정욕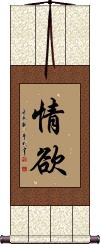 情欲 can be defined as lust, sexual desire, sensual desire, carnal desire, carnal passions, sexual desire, and passion.

The first character means feeling, emotions, passionate, sympathy, affection, love, compassion, tender feelings, and sometimes circumstances or facts.

The second character means desire, longing, appetite, wish, covetousness, greed, passion, desire, and craving.

情欲 is universal in Chinese, Japanese Kanji, and Korean Hanja.