Buy a Chinese and/or Japanese Clay wall scroll with here!
Click the "Customize" button next to your name below to start your custom clay calligraphy artwork...

tǔ

tsuchi

토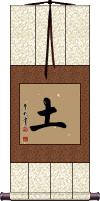 土 is earth, soil, ground or Terra.
---
Earth is one of the five elements that ancient Chinese believed all things were composed of. These elements are also part of the cycle of Chinese astrology. Every person has both an animal sign, and one of the five elements according to the date of their birth.
---
See Also: Five Elements | Chinese Zodiac
The following table may be helpful for those studying Chinese or Japanese...
Title
Characters
Romaji

(Romanized Japanese)

Various forms of Romanized Chinese
Clay
克雷
kè léi / ke4 lei2 / ke lei / kelei
k`o lei / kolei / ko lei
Clay
クレイ
kurei
Earth
土
tsuchi
tǔ / tu3 / tu
t`u / tu