Buy a Chinese and/or Japanese Camellia wall scroll with here!
Click the "Customize" button next to your name below to start your custom camellia calligraphy artwork...

kameria

カメリア is the name Camellia written in Katakana (phonetic Japanese).

This sounds like Camellia, but does not mean the camellia plant or leaf.

Instead of these characters, you may want to go with the name of the plant. Of course, camellia also means tea, as varieties of camellia plants provide the leaves for many kinds of Chinese and Japanese teas.
---
Note: Because this title is entirely Japanese Katakana , it should be written by a Japanese calligrapher.

chá

cha

차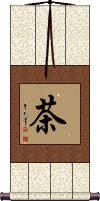 茶 means tea. It can refer to prepared tea (ready-to-drink) or to dry tea leaves.

The origin of tea is China but the same character is used in Japanese Kanji, and old Korean Hanja with the exact same meaning. Japanese and Korean even borrowed the pronunciation from Chinese (pronounced "cha" in all three languages).

It's said that an early doctor (or herbologist) in ancient China kept poisoning himself as he tried different new herb concoctions. He invented tea as a means to detoxify himself as he recovered from 1 of the 76 times he nearly poisoned himself to death. Tea is seen not just as a drink but as a form of medicine used to remove impurities from the body.

The word "chai" (used in many languages to refer to various teas) is derived from this Chinese word.

茶 also means camellia, as Asian teas are often based on the leaves of camellia plant varieties.
The following table may be helpful for those studying Chinese or Japanese...
Title
Characters
Romaji

(Romanized Japanese)

Various forms of Romanized Chinese
Camellia
卡梅莉婭

---

卡梅莉娅
kǎ méi lì yà

---

ka3 mei2 li4 ya4

---

ka mei li ya

---

kameiliya
k`a mei li ya

---

kameiliya

---

ka mei li ya
Camellia
カメリア
kameria
Tea
茶
cha
chá / cha2 / cha
ch`a / cha
In some entries above you will see that characters have different versions above and below a line.
In these cases, the characters above the line are Traditional Chinese, while the ones below are Simplified Chinese.