Buy a Chinese and/or Japanese Bing wall scroll with here!
Click the "Customize" button next to your name below to start your custom bing calligraphy artwork...

bīng

빙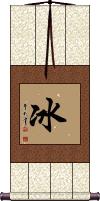 冰 is the Chinese character used to express "ice" or "frost."

The main part of the character on the right holds the meaning of "water" and on the left, is a radical (the two dots) that also means water. Together, they create the character that means "ice" (solid water).
---
This is similar to the character for frost in Japanese. However, Japanese drop the radical from the left side.

bīng

hei

병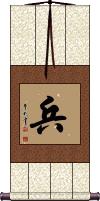 兵 can be used to express soldiers, troops, a force, an army, weapons, arms, military, warfare, tactics, strategy, or warlike.

The final meaning depends on context. It's also part of the Chinese title for the Terracotta soldiers. In fact, this character is usually used in compound words (words of more than one character). Sometimes this single character is the title used for the pawns in a chess game (in a related issue, this is also a nickname for soldiers with the rank of Private).
---
The following table may be helpful for those studying Chinese or Japanese...
Title
Characters
Romaji

(Romanized Japanese)

Various forms of Romanized Chinese
Bing
兵
bīng / bing1 / bing
ping
Ice
Frost
冰
bīng / bing1 / bing
ping
Soldiers
兵
hei
bīng / bing1 / bing
ping