Buy a Chinese and/or Japanese August wall scroll with here!
Click the "Customize" button next to your name below to start your custom august calligraphy artwork...

bā yuè

hachigatsu / yatsuki

팔월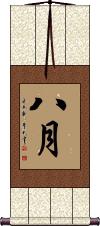 八月 is the month of August in Chinese, Japanese Kanji, and old Korean Hanja.

八月 literally mean "eighth month" or "eighth moon."

In Japanese, this can also be the female given name, Yatsuki, in much the same way August can be a female given name in English.
The following table may be helpful for those studying Chinese or Japanese...
Title
Characters
Romaji

(Romanized Japanese)

Various forms of Romanized Chinese
August
アウグスト
augusuto
August
八月
hachigatsu / yatsuki
bā yuè / ba1 yue4 / ba yue / bayue
pa yüeh / payüeh
August
奧古斯特

---

奥古斯特
ào gǔ sī té

---

ao4 gu3 si1 te2

---

ao gu si te

---

aogusite
ao ku ssu t`e

---

aokussute

---

ao ku ssu te
In some entries above you will see that characters have different versions above and below a line.
In these cases, the characters above the line are Traditional Chinese, while the ones below are Simplified Chinese.